Stora Sarektraversen, Sarek travers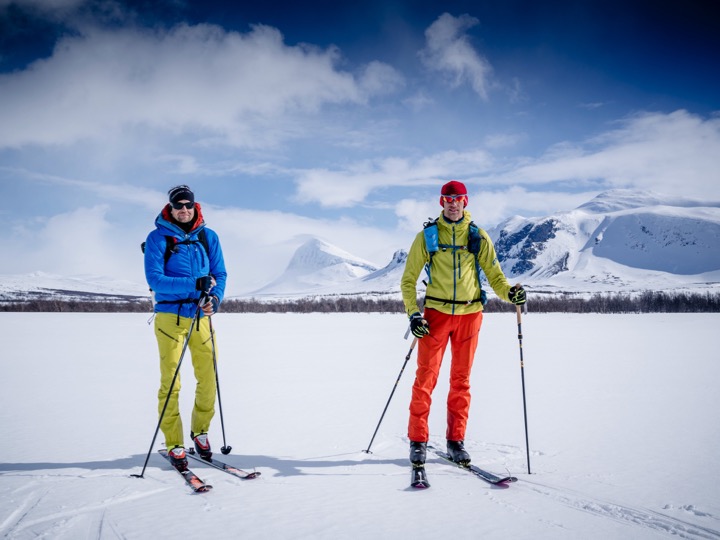 The Big Sarek travers is:
Sweden longest alpine travers
North Europe longest ridge
Biggest alpine challenge in Sweden
Often take 5-9 days from civilisation and back. We did it on 29 hours!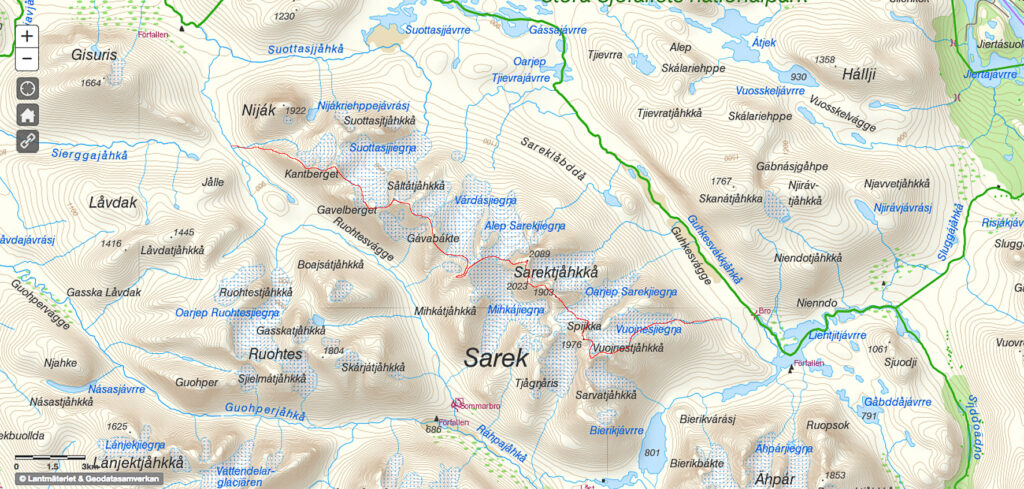 The Traverse is a lot of kilometers away from civilisation and it´s located in Europe biggest wild nature area. Sarek National park is on 1 970 km2 and it connected with two other national park in a area big as 9 400 km2. So you need a lot of hours and days to even reach the traverse normally.
The traverse Kantberget – Vuojnestjåhkkå: 47 KM 4650 Ascent meters 10 summits we did it on 21 hours.
The whole tour from our starting point Kisurisstugan (Gisuris) – the travers – Sourva: 80 KM 5300 Ascent meters 10 summits we did it on 29:25 hours.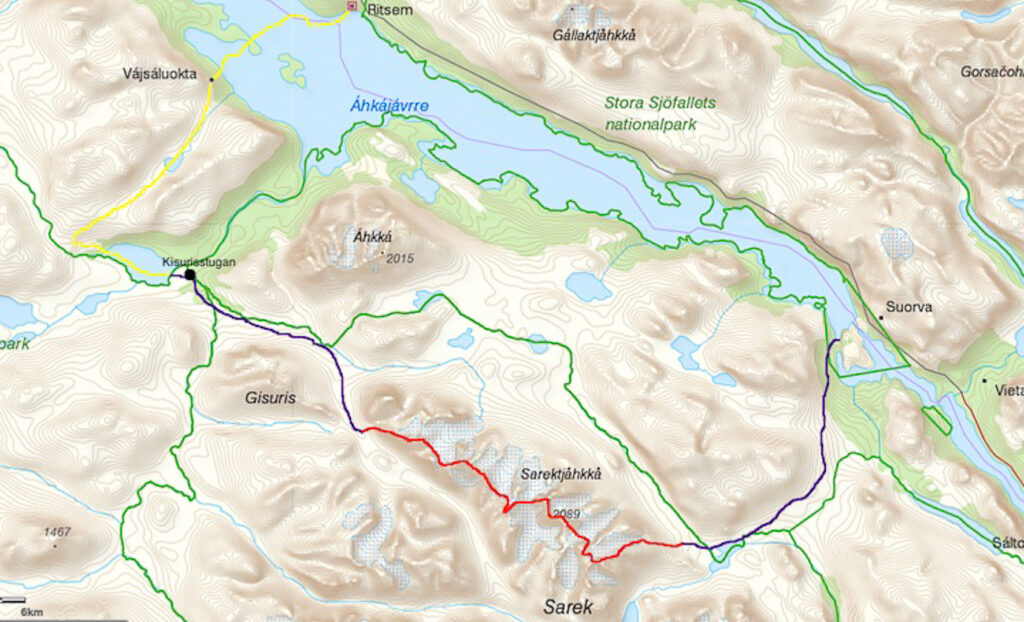 I have dream about the try to ski the travers instead of climbing/walking the traverse in crampons like the mostly climbers have done before us. Our idea was to do the traverse with our modern SKIMO style. Use ski touring equipment that weigh as less is possible but still nice and comfort to ski downhill on this technicals mountains and becasue we have ski on a lot af narrow ridges and steep skiruns mostly of our life we could do this travers on a whole new level. On parts where climbers before have walk in crampons in rope we just ski instead. Of course it´s depends on conditions but that was our goal and we sucess with it. After years of dreaming…
The heros of climber that have done it before us….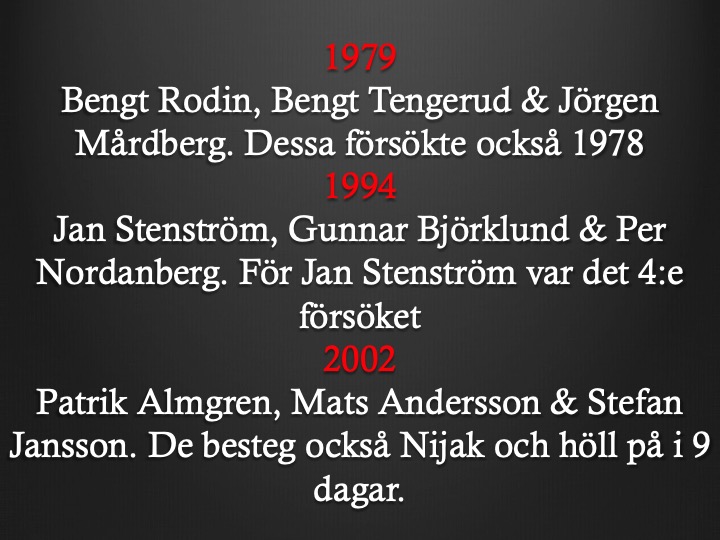 Thoughts
The dream about this Ski Tour/climbing start for me around 2008-2010 that I want to try it. First because it´s the biggest alpin challange in Sweden. Second because I really though we could do it on my own way and with my own style, like mostly of my adventure. The biggest problem is find a partner. ONE that could do it, maybe easiest. ONE that also was interested of this project, tougher to find that person. You most have around 10 days free for the adventure, than right weather and snow condition, be on good fit for the tour (could ski 24-48 hours I had calgulate on), want to do this tour in the wilderness where the biggest dangerous is the winterstorm and the cold in conbines with the alpina tour it still is. First years I dident find the right tour friends….. After a while two guys come up and it was Henrik Westling and Mårten Pettersson. So we had 10 days of free finally 2015.
2015
2015 start with the drive there on 10 hours with that Henrik starting to feel sick in the car. And then we are in the camper and wait for the right weather. We had a forecast that not was perfect and beacause Henrik still was sick me and Mårten Pettersson wanted to try anyway. We had travel so far and was really ready so we decide that we try it anyway. And if the weather going bad we continues the cross Sarek out in the valley. After doing around 20% of the travers in blue sky the clouds rolling in and reach us and it get without in about 40 min. So we ski down in the valley and cross the Sarek to the civilisation on 17:23 hours and ski 75 km 4300 ascent meters.
The great success 2017
After sitting in the camper for around 15 days of our life at the camping Stora Sjöfallet we did our try this year in perfect forecast. Only prblem we really have was the start from Kiruris hut to the first ridge on the night, that we had temperature on -20° in the start and later one hour we had stronger winds also. We ski in all our clothing we had bring and I ski in a parka and extra warm pant on the outside of my normalt ski pants.
Here you can read on Swedish a press release Jämtar sätter nytt rekord på Stora Sarektraversen i Jokkmokksfjällen.
And more articles of Bergsport.se and Freeride.se